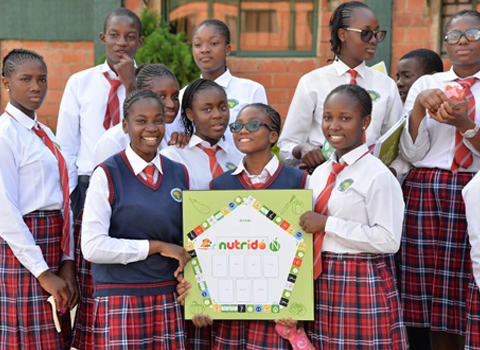 Imagine a world without malnutrition
Imagine a world where the millions of children who are constantly tired and getting sick are finally able to lead healthier and more productive lives.
We are dedicated to leading the fight against malnutrition in Africa and beyond. We know that Nutrido can and will make a difference. We have made it our mission to put a box of the Nutrido game in every school. We are striving to realize this vision in a socially and environmentally responsible way.
Nutrido is about building a healthy lifestyle through effective eating habits.
The Nutrido program consists of 4 components:
1. Nutrido School Clubs
2. Video and Board Games
3. E-Vouchers for Fruits & Veggies
4. Nutrition Storytelling Platforms
The Nutrido program starts by instituting Nutrido clubs (comprising student leaders and nutrition teachers) in our partner secondary schools. Through these clubs, the Nutrido board games and video games are available to all the students of the school. The games feature different types of foods (locally available) ranging from healthy to unhealthy (e.g., cabbages, carrots and oranges to fries and sodas) with differing point values, equivalent to its nutritional value, and blurbs with nutrition lessons that must be heeded to advance in the game. The students must "eat" foods that maximize their points, while staying within their recommended daily intake. The points gained in the both the video and board games then translate into e-vouchers that students can use to buy nutritious foods (e.g., oranges, bananas) for themselves and their families. These e-vouchers are funded by ACILD.
Through the Nutrido clubs, students are also able to share their nutrition stories with other students using various platforms such as YouTube, school assemblies and newsletters. Our Nutrido program has already shown to cause remarkable improvement in healthy eating and intake of fruits and vegetables among students and their families and an overall increase in health and well-being.
The points gained in the game translate into vouchers that students can use to buy nutritious food (from participating restaurant owners and food market vendors who are stakeholders) for their families, friends, peers etc. It is our firm belief that the game will attract food companies to donate funds as part of their corporate social responsibility. The lessons students learn in the game are to be reinforced by mothers telling stories in their communities about food preparation, their real experiences with nutrition-related health problems and more. The ultimate outcome is improved nutrition knowledge with noticeable change in eating habits and in turn health, among students, their families, peers, friends and communities.